Restricted Operator's Certificate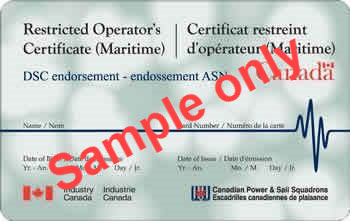 Restricted Operator's Certificate (Maritime) [ROC(M)] is the qualification required to operate a marine VHF or MF radio.
The course will teach you the proper use of Marine VHF radio, including new DSC radios. You will learn the various priority of radio calls, and the proper method of making and responding to these calls. You will also learn how GMDSS works. (Note the sample has DSC endorsement stamped on it, which you will need to operate a DSC radio.)
CPS has been delegated authority to issue Restricted Operator Certificates (Maritime) to Pleasure Craft Operators. Our manual is the only one approved by Industry Canada
Partial Course Content:
Regulations
Procedural words and phrases
Calling Procedure (including Distress, Urgency and Safety)
Alarm signals, EPIRB, EPIB, SART
GMDSS overview, MMSI
DSC procedures for Distress, Urgency, Safety and Routine calls
We need enough students to cover hall rental, so please sign up early, otherwise the course may be cancelled. Along with regularly scheduled courses, courses can be arranged for groups. Also, individuals can challenge the exam. Contact the instructor for more information.
You can register for the combined Boating 2 & 3 and ROC by completing and submitting an Application Form (PDF format), or contact our Training Officer.
Prerequisite:
Open to all - No Prerequisite
Date, Time and Location:
Check our Calendar of Events
Duration:
1 Evening a week for two weeks (one night for course, second for exam)
Cost: Full Course

$150 - Includes manual and link to website for review questions and basic radio simulation

(membership discounts available see National site course info)

Cost: Manual Only
$75 - For those who wish to do home study only.
Cost: Exam only
$75 - For those who wish to challenge the full Exam.
Contact:
ROC Instructor